Micrograin solide carbide end mill
with double flute and flat bottom
edge radius
25° upcut spiral
shank without clamping surface DIN 6535-HA
toric cut
The special feature of this mill is the steep upcut angle.
The chips are removed very quickly from the work piece. In many cases this results in extremely high feed rates.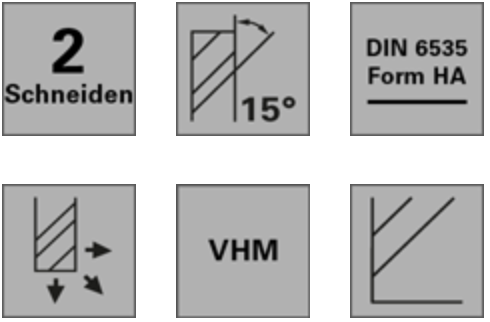 Art.-No.
D1
(mm)
D2
(mm)
L1
(mm)
L2
(mm)
Price

| | |
| --- | --- |
| | Products to cart |

DAT.0068815A
1,5 (mm)
3,0 (mm)
40,0 (mm)
6,0 (mm)

24,30 EUR

DAT.0068815
1,5 (mm)
3,175 (mm)
40,0 (mm)
6,0 (mm)

24,30 EUR

DAT.0068866
1,9 (mm)
6,0 (mm)
50,0 (mm)
6,0 (mm)

33,20 EUR

DAT.0068820A
2,0 (mm)
3,0 (mm)
40,0 (mm)
6,0 (mm)

24,30 EUR

DAT.0068820
2,0 (mm)
3,175 (mm)
40,0 (mm)
6,0 (mm)

24,30 EUR

DAT.0068862K
2,0 (mm)
6,0 (mm)
50,0 (mm)
4,0 (mm)

33,20 EUR

DAT.0068862
2,0 (mm)
6,0 (mm)
50,0 (mm)
6,0 (mm)

33,20 EUR

DAT.0068824
2,4 (mm)
3,175 (mm)
40,0 (mm)
8,0 (mm)

24,30 EUR

DAT.0068867
2,4 (mm)
6,0 (mm)
50,0 (mm)
5,0 (mm)

33,20 EUR

DAT.0068830A
3,0 (mm)
3,0 (mm)
40,0 (mm)
10,0 (mm)

24,30 EUR

DAT.0068830K
3,0 (mm)
3,175 (mm)
40,0 (mm)
6,0 (mm)

24,30 EUR

DAT.0068830
3,0 (mm)
3,175 (mm)
40,0 (mm)
10,0 (mm)

24,30 EUR

DAT.0068863K
3,0 (mm)
6,0 (mm)
50,0 (mm)
6,0 (mm)

33,20 EUR

DAT.0068863
3,0 (mm)
6,0 (mm)
50,0 (mm)
10,0 (mm)

33,20 EUR

DAT.0068864
4,0 (mm)
6,0 (mm)
50,0 (mm)
8,0 (mm)

33,20 EUR

DAT.0068865
5,0 (mm)
6,0 (mm)
50,0 (mm)
10,0 (mm)

33,20 EUR

DAT.0068860K
6,0 (mm)
6,0 (mm)
50,0 (mm)
7,0 (mm)

33,20 EUR

DAT.0068860
6,0 (mm)
6,0 (mm)
50,0 (mm)
12,0 (mm)

33,20 EUR

| | |
| --- | --- |
| | Products to cart |
Show 1 to 18 (from a total of 18 products)