Microgain solid carbide end mill
with double flute and flat bottom
30° upcut spiral
shank without clamping surface DIN 6535-HA
DATRON´s double flute end mills are available in special versions: with extra short flutes, toric cut or stepped. These tools are especially suitable to produce a high surface quality. The symmetrical arrangement of the flutes and the resulting high concentricity, make these tools also suitable for the production of fits. In addition, coated micro tools with an extremely short flute for stell machining are also availabble.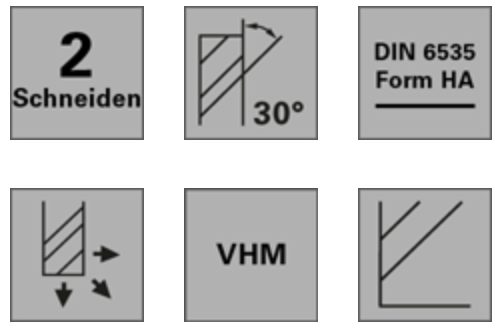 Art.-No.
D1
(mm)
D2
(mm)
L1
(mm)
L2
(mm)
Price

| | |
| --- | --- |
| | Products to cart |

DAT.00680010
0,1 (mm)
3,0 (mm)
40,0 (mm)
0,2 (mm)

97,90 EUR

DAT.00680020
0,2 (mm)
3,0 (mm)
40,0 (mm)
0,4 (mm)

39,60 EUR

DAT.00680025
0,25 (mm)
3,0 (mm)
40,0 (mm)
0,4 (mm)

39,60 EUR

DAT.0068003
0,3 (mm)
3,0 (mm)
40,0 (mm)
0,9 (mm)

35,30 EUR

DAT.0068004K
0,4 (mm)
3,0 (mm)
40,0 (mm)
0,6 (mm)

28,60 EUR

DAT.0068004
0,4 (mm)
3,0 (mm)
40,0 (mm)
2,5 (mm)

22,60 EUR

DAT.0068604
0,4 (mm)
3,175 (mm)
38,0 (mm)
2,5 (mm)

22,60 EUR

DAT.0068005K
0,5 (mm)
3,0 (mm)
40,0 (mm)
1,0 (mm)

25,90 EUR

DAT.0068005
0,5 (mm)
3,0 (mm)
40,0 (mm)
2,5 (mm)

22,60 EUR

DAT.0068605
0,5 (mm)
3,175 (mm)
38,0 (mm)
3,0 (mm)

21,90 EUR

DAT.0068006K
0,6 (mm)
3,0 (mm)
40,0 (mm)
1,0 (mm)

25,90 EUR

DAT.0068006
0,6 (mm)
3,0 (mm)
40,0 (mm)
3,0 (mm)

17,60 EUR

DAT.0068606
0,6 (mm)
3,175 (mm)
40,0 (mm)
3,0 (mm)

14,50 EUR

DAT.0068008
0,8 (mm)
3,0 (mm)
40,0 (mm)
4,0 (mm)

17,60 EUR

DAT.0068608
0,8 (mm)
3,175 (mm)
40,0 (mm)
5,0 (mm)

14,50 EUR

DAT.0068009
0,9 (mm)
3,0 (mm)
40,0 (mm)
5,0 (mm)

17,60 EUR

DAT.0068609
0,9 (mm)
3,175 (mm)
40,0 (mm)
5,0 (mm)

14,50 EUR

DAT.0068010S
1,0 (mm)
3,0 (mm)
40,0 (mm)
2,3 (mm)

17,60 EUR

DAT.0068010K
1,0 (mm)
3,0 (mm)
40,0 (mm)
3,0 (mm)

17,60 EUR

DAT.0068010
1,0 (mm)
3,0 (mm)
40,0 (mm)
5,0 (mm)

17,60 EUR

DAT.0068010L
1,0 (mm)
3,0 (mm)
40,0 (mm)
8,0 (mm)

34,10 EUR

DAT.0068610K
1,0 (mm)
3,175 (mm)
40,0 (mm)
3,0 (mm)

14,50 EUR

DAT.0068610
1,0 (mm)
3,175 (mm)
40,0 (mm)
4,0 (mm)

14,50 EUR

DAT.0068012S
1,2 (mm)
3,0 (mm)
38,0 (mm)
2,3 (mm)

17,60 EUR

DAT.0068012K
1,2 (mm)
3,0 (mm)
40,0 (mm)
3,0 (mm)

17,60 EUR

DAT.0068012
1,2 (mm)
3,0 (mm)
40,0 (mm)
5,0 (mm)

17,60 EUR

DAT.0068612
1,2 (mm)
3,175 (mm)
40,0 (mm)
5,0 (mm)

14,50 EUR

DAT.0068613
1,3 (mm)
3,175 (mm)
38,0 (mm)
5,0 (mm)

14,50 EUR

DAT.0068015
1,5 (mm)
3,0 (mm)
40,0 (mm)
5,0 (mm)

17,60 EUR

DAT.0068615
1,5 (mm)
3,175 (mm)
40,0 (mm)
6,0 (mm)

14,50 EUR

DAT.0068015S
1,5 (mm)
3,0 (mm)
38,0 (mm)
10,0 (mm)

17,60 EUR

DAT.006A015
1,5 (mm)
3,0 (mm)
38,0 (mm)
5,0 (mm)

21,40 EUR

DAT.0068016
1,6 (mm)
3,0 (mm)
38,0 (mm)
6,0 (mm)

17,60 EUR

DAT.0068616
1,6 (mm)
3,175 (mm)
38,0 (mm)
6,0 (mm)

14,50 EUR

DAT.0068617
1,7 (mm)
3,175 (mm)
38,0 (mm)
6,0 (mm)

14,50 EUR

DAT.0068618
1,8 (mm)
3,175 (mm)
38,0 (mm)
6,0 (mm)

14,50 EUR

DAT.0068020K
2,0 (mm)
3,0 (mm)
40,0 (mm)
4,0 (mm)

17,60 EUR

DAT.0068020
2,0 (mm)
3,0 (mm)
40,0 (mm)
9,0 (mm)

17,60 EUR

DAT.0068620K
2,0 (mm)
3,175 (mm)
40,0 (mm)
4,0 (mm)

14,50 EUR

DAT.0068620
2,0 (mm)
3,175 (mm)
40,0 (mm)
8,0 (mm)

14,50 EUR

DAT.0068024K
2,4 (mm)
3,0 (mm)
40,0 (mm)
5,0 (mm)

17,60 EUR

DAT.0068024
2,4 (mm)
3,0 (mm)
40,0 (mm)
8,0 (mm)

17,60 EUR

DAT.0068624K
2,4 (mm)
3,175 (mm)
40,0 (mm)
5,0 (mm)

14,50 EUR

DAT.0068624
2,4 (mm)
3,175 (mm)
40,0 (mm)
8,0 (mm)

14,50 EUR

DAT.0068625
2,5 (mm)
3,175 (mm)
40,0 (mm)
8,0 (mm)

14,50 EUR

DAT.0068030K
3,0 (mm)
3,0 (mm)
40,0 (mm)
6,0 (mm)

17,60 EUR

DAT.0068030A
3,0 (mm)
3,0 (mm)
40,0 (mm)
10,0 (mm)

21,80 EUR

DAT.0068030L
3,0 (mm)
3,0 (mm)
40,0 (mm)
12,0 (mm)

21,80 EUR

DAT.0068030X
3,0 (mm)
3,0 (mm)
60,0 (mm)
25,0 (mm)

28,20 EUR

DAT.0068630K
3,0 (mm)
3,175 (mm)
40,0 (mm)
6,0 (mm)

14,50 EUR

DAT.0068630
3,0 (mm)
3,175 (mm)
40,0 (mm)
10,0 (mm)

14,50 EUR

| | |
| --- | --- |
| | Products to cart |
Show 1 to 51 (from a total of 51 products)